AbSec staff are a diverse group of people, united by our shared commitment to building a brighter future for Aboriginal children, young people, families and communities.
Our team is governed by a board of directors, which determines strategy and oversees the implementation of our strategic directions. Our board is made up of representatives from Aboriginal community-controlled organisations across NSW, which are also organisational members of AbSec.
Please visit our careers page if you're interested in joining our team.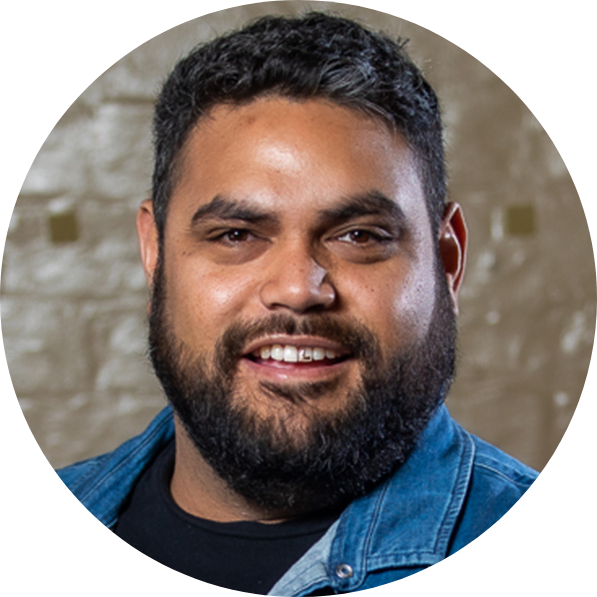 John Leha
Chief Executive Officer
John is a proud Birri Gubba, Wakka Wakka and Tongan man born raised on Gadigal land and has been the CEO of AbSec since 2021.
John was previously the Director of Operations at the National Centre of Indigenous Excellence and former Chairperson for Gadigal Information Service and a founding member and Chairperson of Blaq Aboriginal Corporation.
As an active member of the Sydney Aboriginal community, John has worked extensively in Indigenous health, education and employment programs across state and federal government. He is also a Metropolitan Local Aboriginal Land Council member and is deeply involved and connected to community through his work with the Kingsford Community Legal Centre, the AIDS Council of New South Wales' Aboriginal Project and the Indigenous Marathon Foundation.
Dana Clarke (Chairperson) – CEO of Burrun Dalai Aboriginal Corporation
Dana Clarke is a proud Biripi and Worimi woman. Dana is the Chairperson and has been an active member on the board since 2005.Dana has contributed to our communities through a range of roles in Aboriginal health, child protection, sexual assault and mental health for over 25 years.
Currently Dana is the Chief Executive Officer of Burrun Dalai Aboriginal Corporation. Burrun Dalai delivers early intervention, family preservation, and out-of-home care services across the Nambucca, Macleay, Hastings and Manning Valleys as well as the Tamworth and Armidale Regions.
Dana's work reflects her deeply held belief that our kids and families are our future. Dana is committed to ensuring our communities are best supported to guarantee that our kids remain with family, rich in their culture and belonging. To Dana, "family is everything; it is our past and our future".
Petrice Manton (Vice Chairperson) – CEO of Muloobinba Aboriginal Corporation
Petrice Manton is a proud Aboriginal woman from the Gamipingal clan of the Worimi Nation. Petrice is the deputy Chairperson at AbSec and is the current Chief Executive Officer of Muloobinba Aboriginal Corporation in Newcastle.
Petrice is passionate about advocating for Aboriginal families and making sure our people get a fair go. Petrice is committed to establishing culturally embedded, holistic Aboriginal services to support Aboriginal children and families to flourish, delivered by Aboriginal organisations that are accountable to our communities.
Wendy Knight – CEO of Ngunya Jarjum
Wendy, a proud Barkindgi woman, ia a strong advocate for the rights of Aboriginal people, and is committed to promoting an indigenous perspective on various issues that affect Aboriginal children and families. Wendy is an accomplished senior community services executive, currently serving as the the CEO of Ngunya Jarjum. She has over 15 years' experience working on complex socioeconomic issues such as child protection, out of home care (OoHC), and service sector contract management in both government and non-government roles.
Tina McGhie
Tina McGhie is a proud Wiradjuri and Ngunnawal woman born and raised on Dharawal Country. Tina has been an active member of AbSec's board since 2008 and is currently a Director Consultant at Curijo Pty Ltd. Tina is dedicated to supporting Aboriginal children to remain safely at home with their family, connected to community and culture.
William Henry – CEO of Illawarra Aboriginal Corporation
William Henry is a Yuin Man from the South Coast of NSW and the Chief Executive Officer of Illawarra Aboriginal Corporation. He has worked in the Aboriginal service sector for over 15 years, in areas ranging from health and ageing, to disability and governance. William was previously employed as an Aboriginal Community Development Officer with the Dental Health Service of Victoria, and Chief Executive Officer of Illaroo Co-operative Aboriginal Corporation. He was Chairman of the board of the Illawarra Aboriginal Corporation for 10 years prior to his appointment as CEO, and is the grandson of one of the founding members.
Aunty Dawn Bell
Dawn Bell (nee Campbell) is a proud Aboriginal Dunghutti and Yuin woman with family connections from Kempsey to the Victorian border. Dawn is on the board of directors at the Illawarra Aboriginal Corporation and has been an active member for over 35 years, including as the Illawarra Aboriginal Corporation's first president. Dawn has been involved in Aboriginal affairs for over 40 years. Dawn is a mother, grandmother, great-grandmother and foster carer. Dawn also acts as a mother to her nieces, nephews and their children.